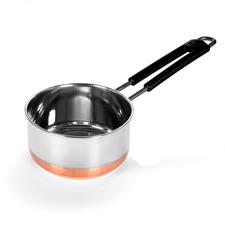 BERRY STAINLESS STEEL COPPER BOTTOM SAUCE PAN 1 LTR (10 CM)
Shop with

Confidence

Brand new &

100% Genuine
BERRY STAINLESS STEEL COPPER BOTTOM SAUCE PAN 1 LTR (10 CM)With a wide variety of sauce pans, you are free to pick your choicest one. Easy to use and easier to clean, these kitchen tools are a must have to turn your starters and main course into a memorable meal.Durable, long-lasting and practical, these cooking pots and handis are a must-have in your kitchen.Qty: 1 No.
* Price (Rs.) and Points are inclusive of shipping price.
* Images shown are for demonstration purposes only. The actual product may vary.
* Product displayed subject to availability.